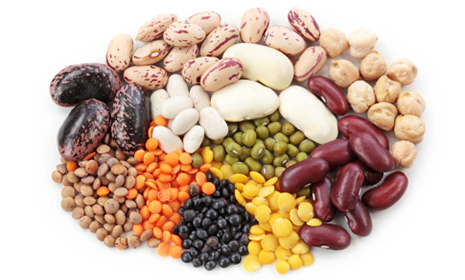 Cheap, tasty and versatile – here are a few facts to convince you to make beans and pulses a daily habit.
They help you lose weight
A serving of beans will help you feel full more quickly, because the rich fiber content fills your stomach and causes a slower rise in blood sugar. That should stave off hunger longer and give you a steady supply of energy.
Lentils and chickpeas are rich in prebiotics, which slow the rate sugars are absorbed into your system
They help balance your metabolism
Eating beans helps regulate your blood sugar, insulin and cholesterol levels, as well as lower your blood pressure. This might be why scientific trials show they're better than calorie counting at getting rid of tummy fat.
Packed with nutrients and protein
They're loaded with zinc, protein and iron, plus fibre, folate, and phytates, which are all needed to help reduce the risk of stroke, depression and degenerative disease.
Great source of vegetarian protein
Vegetarians, vegans and individuals who seldom eat meat, poultry, or fish could count on beans as an alternative choice.1/2 cup of beans provides 7 grams of protein, the same amount as in 1 ounce of chicken, meat or fish.
Cancer protective
The phytoestrogens in soybeans, in particular, seem to help prevent breast cancer and improve breast cancer survival. Edamame beans (soyabeans in their pods) are especially good. Even processed foods made from beans, like tofu and soya milk, have beneficial effects.
Heart Health
Studies have shown that people who eat more beans have a lower risk of heart disease, probably due to the phytochemicals they contain.
They prevent constipation
Loaded with fibre, beans can promote regularity by preventing constipation. Just be sure to always accompany high-fibre foods with plenty of fluids, like still or sparkling water.