Did you buy a whole pumpkin and carve it up for Halloween decorations? Now that we're in peak pumpkin season there are good reasons to eat plenty of it too – not least because it's a wonderful way to give your immune system a boost. The large orange kind can usually be picked up from the local supermarket, but for the more exotic yellow, green, white, red or gray varieties, a trip to the farmer's market may be in order. All are a rich source of nutrients essential for protecting health.
Packed with immune-boosting nutrients
Whatever the colour the pumpkin, the bright orange flesh gives a clue to the pumpkin's wealth of plant pigments known as carotenoids. One of these is beta-carotene, which helps neutralize free radicals and so reduces the risk of cancer. Beta-carotene can also be converted into vitamin A, a powerful anti-oxidant that protects our immune system and maintains the integrity of skin and mucus membranes. Of all the vegetables in the cucurbitaceae family, which includes cucumbers, squash and melons as well as pumpkins, pumpkins contain the highest levels of vitamin A. Just 100 grams, or the amount you might eat in a bowl of tasty pumpkin soup, provides 246% of your daily requirement. Worth remembering, when you consider that vitamin A is also vital for proper vision and protects against lung and oral cavity cancers as well. Pumpkin flesh also contains the powerful antioxidants lutein and zeaxanthin, which offer additional protection against some cancers,  promote eye health and guard against macular degeneration too.
Best way to eat it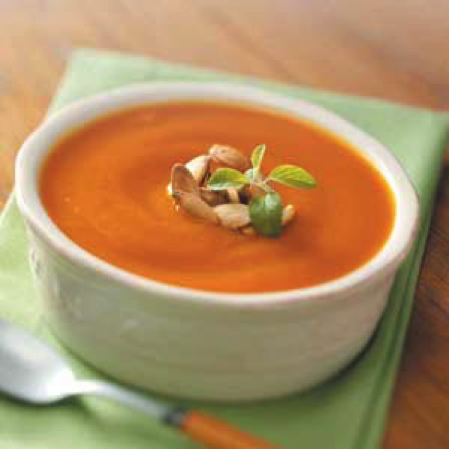 My favourite way to enjoy pumpkins is in a soup. Chop into pieces, sauté with a few onions and spices, add vegetable stock, put it all in the food processor and you have a wonderful velvety concoction the whole family will love. Alternatively, use the cubes to make a hearty pumpkin risotto.
Don't forget the seeds!
When preparing the flesh, don't be tempted to discard the precious, edible seeds. Just rinse and dry them, coat with a little olive oil and season with paprika or whatever spices you have on hand. Pop them in the oven on a cookie tray, lightly toast and eat whole as a delicious nutritious snack. Full of protein, minerals, vitamins and omega-3 fatty acids, pumpkin seeds are also an excellent source of the amino acid tryptophan, which guards against depression in the winter months ahead.